28 Nov

CareerCon Career Advancement Event for Women in 40s, 50s and beyond

You're 40 and 50+ wanting to figure out your next career move, swivel altogether or look to remain relevant on the job #ageism
You're a female business professional over 40 and…
You want a new career and don't know where to start and feel some sort of way.
You love your company and looking to move up or over and need advice from experts.
You are looking for bid ideas, advice, or mentorship from HR folks, recruiters, and women who get you.
You (fill in the blank)
We're bringing together HR and recruiting experts, authors, and coaches from Western Union, Yahoo! Finance, Vail Resorts Changing the Narrative, LinkedIn, and many others to give you real-life tips, sources, and information in working workshops, masterclasses, fireside chats, and convos.
SAVE $20 | OFF THE FIRST 25 TICKETS | PROMO CODE: 20OFF
So, the question is, are you struggling to find a job? Looking to change careers at 40+, or do you simply want to level up your career game and be in the room with other fab women? Wherever you are in your second act, we've got you covered.
What's included in your ticket:
Career Compass Wheel & Strategy worksheets
Big-time networking with HR leaders from global companies
Career club collab circles
Career & life coaching opportunities on-site
Book Club List for Careers and Life at 40+
CareerCon Social invite for Saturday post-event
CareerCon discussion private Facebook group
Preferred hotel rates at our partner hotel (announced soon)
Discounts on SecondActWomen merchandise
Lite bites, morning brew (coffee and tea)
FREE UNSTOPPABLE #womendontexpire graphic t-shirt with your ticket to CareerCon
Offer for those attending the event LIVE in Denver (while supplies last).
What to bring:
Brown bag lunch or cash for women-owned food trucks on Saturday
Brown bag lunch for Sunday
Notebook or laptop
Business cards – and lots of them
Short list of who you want to meet when you're there!
CLICK HERE to preview the Career Camp agenda featuring industry authors, leaders, experts, and journalists, including Kerry Hannon with Yahoo!, Quinn Slaughter, Global Group Leader, DE&I at Western Union, Janine Vanderburg, Director, and Chief Catalyst at Changing the Narrative, Theda Johnson, Senior Technical Recruiter & Talent Programs Manager with DocuSign, and more!
SAVE $20 | OFF THE FIRST 25 TICKETS | PROMO CODE: 20OFF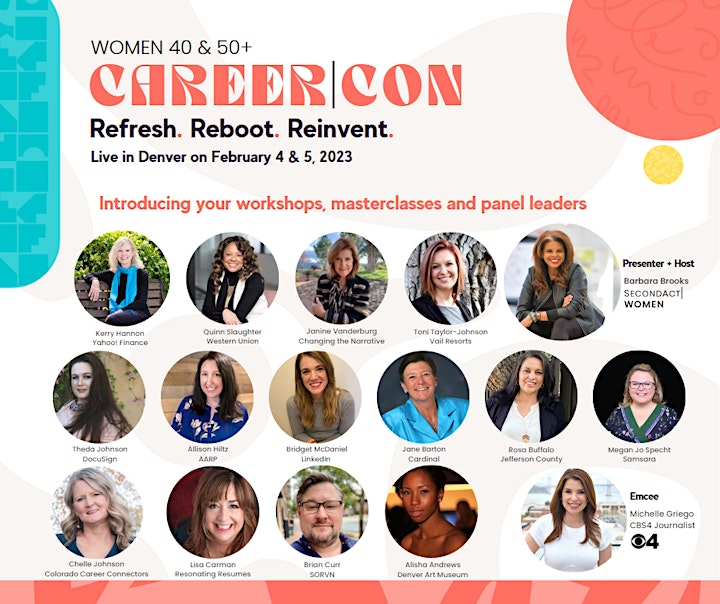 About SecondActWomen
Founded by Barbara Brooks (56) in Denver, Colorado, SecondActWomen spurs businesses, encore careers, and lives of women 40 & 50+. The pro-age membership community delivers professional and personal development boot camps, tools, and connections to move dynamic women 40 & 50+ forward in middlescence.
Check out SAW at secondactwomen.com and @secondactwomen on socials.
And check out the other events we have coming up too here.
SAVE $20 | OFF THE FIRST 25 TICKETS | PROMO CODE: 20OFF